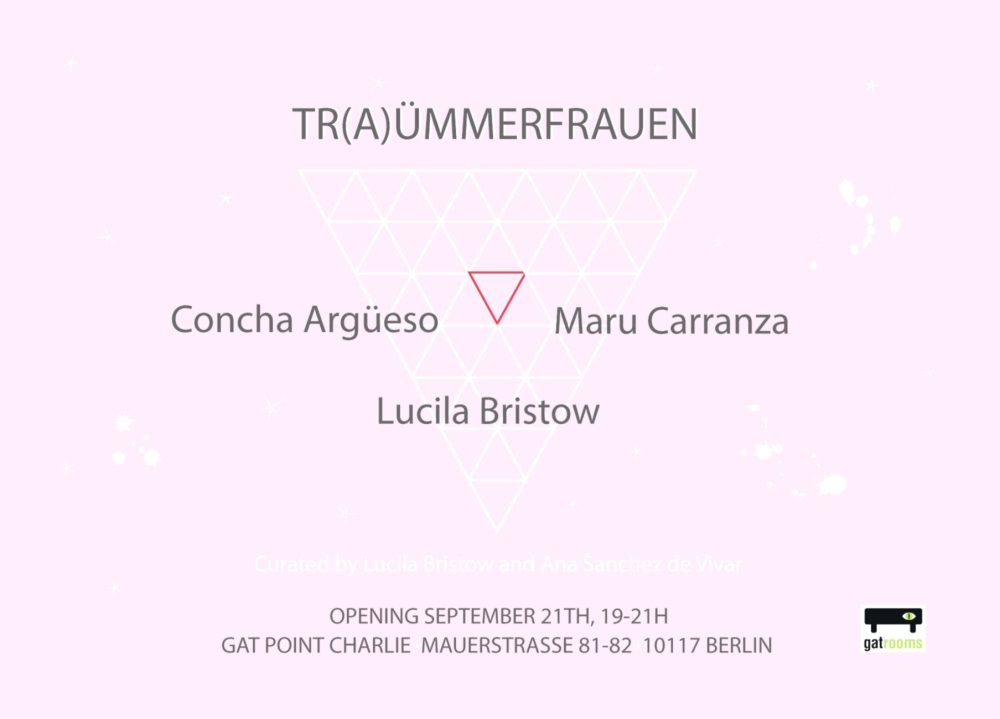 Text by Suzzanne Wagner 2018
The title arises from the figure of the Trümmerfrauen (literally translated as rubble women) and the word in German "Träume", which means dreams.
Trümmerfrauen is the name for women who, in the aftermath of World War II, helped clear the debris and reconstructed the bombed cities of Germany and Austria.
With this idea, the exhibition shows the works of three Spanish artists, in their different styles, means and the energy of their dreams. Migrant women who have been living in Berlin for more than 15 years and whose identities and practices are taking part of the ongoing multicultural formation of the city.Ana Sanchez de Vivar and Lucila Bristow.
About Maru Carranza
www.marucarranza.com
Maru is a mixed media artist, illustrator, photographer and filmmaker, with an extensive background developing videos, animations, and web content for clients in art, architecture and fashion.
She arrived at her practice with an aesthetic sense in the art of challenge the perception of tenderness, solitude, nostalgia, seduction and desire.
Her artworks often show the privacy of the loneliness in relationships between women and places. Architectural and film backgrounds strongly influenced her approach to spatial concerns, surrounding and reflecting her self-image. Lately she focuses more on textile art, inspired by traditional crafts and fashion. She also works on commissioned projects and hosts embroidery, quilting, textile printing and weaving workshops in her studio in Berlin, Germany.
About Concha Argüeso
www.conchaargueso.eu
Abstraction is for Concha Argüeso a metamorphosis of objectivity through a physical and emotional creative process. Visible are the constant repetitive gestures with brush, pen and drippy candle wax. They follow the artist's current perception, who works slowly and concentrated until the work of art gains its own meaning. In her works the essence of a form is carved out. Their forms seem to breathe slowly and, in the pulse of passing time, bring the observer to the essence of being. Concha Argüeso succeeds, in different spatial situations and with different materials, taking a substantial look at the things that spread in front of us, both poetically and questioningly.
About Lucila Bristow
www.lucila-bristow.com
Lucia Bristow works with different media like illustration, photography, silkscreen, collage and head pieces. She takes advantage of the informative forces of the images. That is the reason why she is concerned about the cultural aspects and meanings transforming them into symbols.
Bristow converts the original photographic models and elements into minimalistic and colorful digital illustrations, in which the viewer is nearly forced to discover details in order to appreciate the metaphoric interpretations inside each image.
Themes like nature, social issues and pop culture are the basis of her work.