NEXT WEAVING WORKSHOP IN BERLIN: send me an email to arrange the new group
WEBEN TAPESTRY

[contact_bank form_id="2″ form_title="show" form_description="show"][/contact_bank]
Wool is the beginning of a lot of fun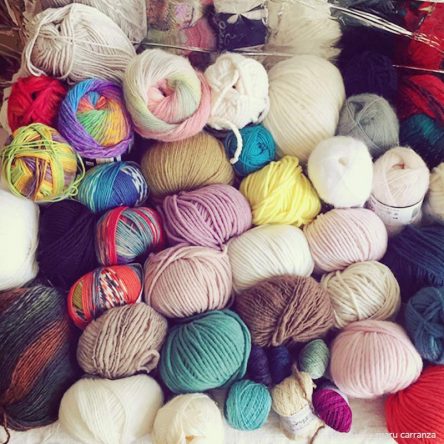 I cannot stop buying it. Which color is the best for my new project? Should i buy these or not? Those are the questions that you ask yourself when you spend a lot of hours in the week in this kind of flufly shops.
And they are expesive. the cheapest ball f wool i bought costed 2,50 € 50 grams.. I guess i chose the best yarns so I had to pay a lot of money. I invested more than 200€ in wool in less than one month.
Look at these pictures, some of them you can see the prices.
I love those pastel colors, baby colors. Some of the are 100% Baumwolle, which means 100% Cotton. That quality is also goos and is cheaper than normal wool, even cheaper that synthetic wool.
I have the feeling that there´s a lack of colors in the color scales of the brands.. For example, I was looking for natur colors, browns etc, and I could find only two or three different natural browns to choose, which was exhausting me a lot because my project is about natur colors and it was hard for me to find a good scale of browns for it.